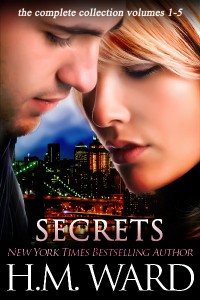 ***LIMITED TIME OFFER***
The SECRETS Omnibus (the complete collection) is available for $9.99 on Amazon, and you can get it via Kindle Unlimited too. This offer can end at any time. GRAB IT NOW!
USA TODAY bestselling series by H.M. Ward
Sex is supposed to be sexy, tantalizing, and completely erotic, but Anna never seems to find the right guy. This one seems to be a germ-a-phobe, and the previous boyfriend wasn't much better. Anna just wants to be wanted. Is that too much to ask?
As Anna tries to wiggle out of one relationship, a new one surfaces, but it's forbidden. Cole Stevens is twice her age, arrogant, rich, and sexy as hell. To make matters worse, he's her boss and her teacher.
When Anna's internship plans derail, she ends up working at Cole's elite New York City studio. Close proximity leads Anna to discover that the billionaire bachelor is emotionally scarred. Everyone has secrets, but Cole's run deeper, cutting him to his core. Cole is trouble in a sexy shell. He's nothing Anna needs and everything she wants.
Genre: New Adult
Type: Omnibus Edition/ Complete Collection
Paper Edition is 700 pages
GRAB IT NOW, BEFORE THE OFFER ENDS! ONLY AVAILABLE THROUGH:

What readers are saying about SECRETS:
"Strong willed & smart female characters, sexual tension, forbidden attraction, smart & quirky humor! " -Melanie
"A girl who falls for her teacher.. Go get your copy today." -B. Warnick
"Loved the chemistry of Cole and Anna! You will too!" -Amy