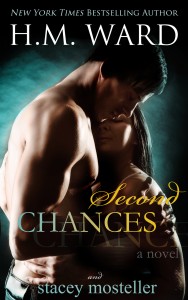 ON SALE FOR 99 CENTS! (regular price $5.99)
Second Chances: A Novel
Description:
NEW YORK TIMES & USA TODAY BESTSELLER Sex. Betrayal. Forbidden Love. Lawn Boy.
I'm not a catch, I'm not even certain I'm what they'd call 'mentally stable,' not anymore. Too much has happened too fast and it ripped my soul in half. I'm alone, a plastic stick in my hand that says the one word we'd been so eager to see: Pregnant. Lucky in love once is a miracle, but I lost him, and this baby is all I have left. My life turned to ash in a blink and there's nothing I can do about it. Years pass and I'm still here, but it doesn't feel like it, not until the lawn guy, Daniel Clement, checks me out. Me. A yoga-panting, pony tailing, frumpy-butt, frizzy mommy who's covered in whatever the baby tossed on me at lunch.
Daniel's dark eyes linger too long, as if he likes what he sees. I'm shocked and flattered, but he's too young. The age gap between us is over a decade, but that doesn't stop him. If I sleep with him everyone will think I've lost my mind. Maybe I have, because everyday that I see Daniel's sexy, toned body glistening in the sunlight, I consider feeling him pressed against me, naked. The few times his fingers grazed my skin were heaven, but once the clothes come off–he's a god and I'm… me.
I've been alone for so long. Surely one kiss won't hurt anything, one taste of his mouth should be harmless. Things don't have to go that far, but I'm wrong. Love only comes around once in a lifetime. Only fools think otherwise, and I'm the biggest fool of them all.
Genre: New Adult Romance
Type: Stand Alone Novel (346 pages, print edition)
Get SECOND CHANCES for 99⊄ today at these retailers:
SECOND CHANCES VIDEO TEASER:
What Other People Are Saying About SECOND CHANCES:
"A home run in the co-author department!" -Crystal
"The story is both fairy tale mixed with a shot of real life, sprinkled with a helping of sexual tension and finished off with a serving of meddling parents." -Azz
"This story is funny, sexy and heartfelt. It's filled with lovable characters and relatable situations! You'll laugh, you'll cry, you'll want to hire a lawn boy.. because, really, every woman needs her own Daniel!" – Melanie
Happy Reading!