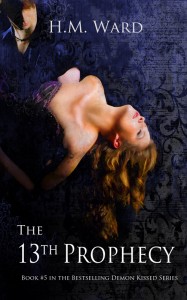 Ready for teaser #2?  You know it!!!
TEASER #2:
THE 13th PROPHECY is LONGER than any other book in this series. It still has some editing going on, but it's currently at 375 pages!
More teasers to come!
And here is some news that DEMON KISSED fans will enjoy.  There is a spin-off of the Demon Kissed series in the works! The working title is: ASSASSIN–FALL OF THE GOLDEN VALEFAR. This series will alternate release dates with the Vampire Apocalypse by H.M. Ward series. Can't wait to share more info! It's eeping awesome! I'M EXCITED!!!!