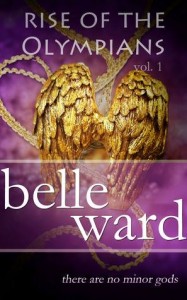 Are you ready for a swicked new book? Check it! Rise of the Olympians, an H.M. Ward Press title by the fabulous Belle Ward!!! Yeah, she's my kid and has an amazing aptitude for writing kickin' middle grade stories. She's incredibly smart and taking college level classes, although she's fourteen. What's a parent to do? I added some creative writing to her English classes and am teaching her all about the publishing world. So get ready for a book that you AND your kids will love.


Description: There are no minor gods. Lilah Jones is officially thirteen. Unfortunately, the day comes with a few twists she didn't expect. For example, her hair turned into a living rainbow and she was gifted with a golden necklace that randomly goes from being room temperature to as hot a supernova. On top of that, she has a dream that she remembers line by the line when she wakes up. Seeking answers, Lilah meets two boys, named Cole and Adrian, who gladly clear things up. Remember the Greek myths you assumed were fiction? The old gods that you assumed were just someone's imagination? You were wrong. They've been with us the whole time, fighting battles we didn't even know existed, and they've returned. The Olympians are reuniting, preparing to fight the most dangerous battle they've ever faced. The Father of Monsters is rising. Genre: MG/YA Paranormal Contemporary Greek Mythology Adventure Type: Novella, 1 of 3 Length: Approx. 100 pgs ea.
GRAB IT TODAY AT THESE RETAILERS!
(paperback to follow)
Pst! It's FREE for Amazon PRIME and KINDLE UNLIMITED members. The book is only on Nook TODAY, so grab it now. Kobo peeps, I'm trying to get it up for you, but their site is glitching. If you want to read this, grab the kindle app for your phone, tablet, or computer and read it that way.
"A swicked adventure that will leave you smiling and wanting more." -HM Ward, New York Times Bestselling Author "Never thought I would enjoy reading Greek Mythology, but this book proved me wrong!!" -Surgtech "I love Greek mythology and Belle has brought it into the present in a clever and riveting way. I got so caught up in it that I couldn't put it down until the end." -Amy