LIFE BEFORE DAMAGED, VOLUME 1, by New York Times Bestselling Author H.M. Ward is out today!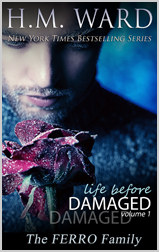 Description:
BY NEW YORK TIMES BESTSELLING AUTHOR HM WARD
Money. Power. Sex.
The trifecta every man strives for and very few attain. I had these things and walked away from the endless stream of women, from the family fortune, from everything. It was all mine in a life long forgotten. The past can't stay buried forever, and hiding mine from Sidney is getting harder. I'm not the guy she thinks I am. If she knows the truth, I risk losing her.
The thing is, I feel those old ways pulling me back, and if Sidney is part of my life now she has to know. Not knowing could destroy us both.
The truth won't set me free. No matter what my name is, I'll always be a Ferro. But Sidney has a choice and I won't steal it from her.
Genre: New Adult Romance
This story unfolds over multiple volumes
Length: Approx. 150 pgs
~Damaged 1 & 2  are on sale now~
BUY IT TODAY AT THESE RETAILERS:






(Print version to follow)
What readers are saying about LIFE BEFORE DAMAGED, VOLUME 1:
"Don't miss this one, especially if you love those Ferro men." – Sandi
"Funny, sexy and mysterious…Life Before Damaged is seriously OUTSTANDING! This is a must read. You won't be disappointed!" – Debi
"OMG was this story amazing! Literally leaves you breathless wanting more of Pete." – Rose
Happy Reading!