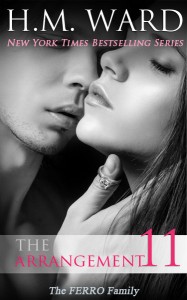 THE ARRANGEMENT VOL. 11 was released today!
DESCRIPTION:
THE SERIES WITH OVER A MILLION COPIES SOLD
~Volume 11 in the New York Times Bestselling Arrangement Serials~
Sean Ferro is my addiction. I can't tell him no, no matter what he asks for, and I know there are so many dark questions behind those blue eyes, so many things he wants me to do with him.
When I watch him go down on one knee, with his sexy body covered in sand, and hold up a glittering ring, I can barely stand. It looks like he's going to propose, and I know exactly what I'm going to say.
Genre: New Adult Romance
This story unfolds over multiple volumes approx. 20,000 words each.
~The Arrangement Vol 1-11 are on sale now.~
GRAB THE ARRANGEMENT 11 NOW AT THESE RETAILERS:
Are you a paper person and wondering when the paperback will be released? Tah dah! Preorder for paper is already up. Go click it and the book will show up on your doorstep on release day. It's awesome. Click here to preorder the paperback of ARRANGEMENT 11.
What readers are saying:
"I LOVE LOVE LOVED it! Not only does this author write amazing stuff she is a down to earth person who listens to what her fans want! Number 12 is going to be amazing with the cliffhangers that were at the end of this one. Sean and Avery's story has been a roller-coaster ride and this book just took you through the biggest upside down loopty loop! LOL! Was not able to stop reading until I finished the whole thing!" -Keitha B.
"Amazeballs! OMFG!I am in complete and utter shock! This is definitely my favorite installment by far! I love this Sean, the sweet caring and open Sean! He loves Avery and I'm so happy he shows it." -Jasmine C.
And more: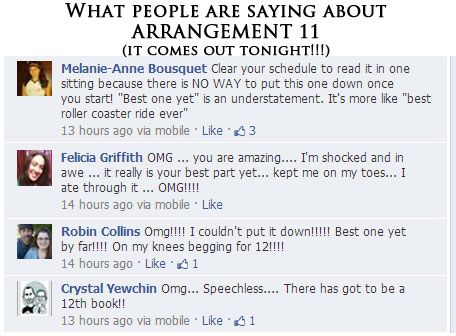 Thank you so much for reading!!! I'll keep you guys updated on the other sites. Have an awesome Monday!