Okay, about a year ago I was trucking along and thought – I'll publish DAMAGED even though I'd had it sitting on my laptop (in the dead to me folder) of unfinished stories that I'd lost interest in writing. I added swing dancing and finished it – hit publish. That was the tipping point for me. I'd hit the NYT once before that (SCANDALOUS) and it was so weird.
I never expected to hit it, not in a million years. And when I first went indie, they'd said, 'over our dead body would an indie ever grace our prestigious list.' So they weren't a dream of mine. Like, at all.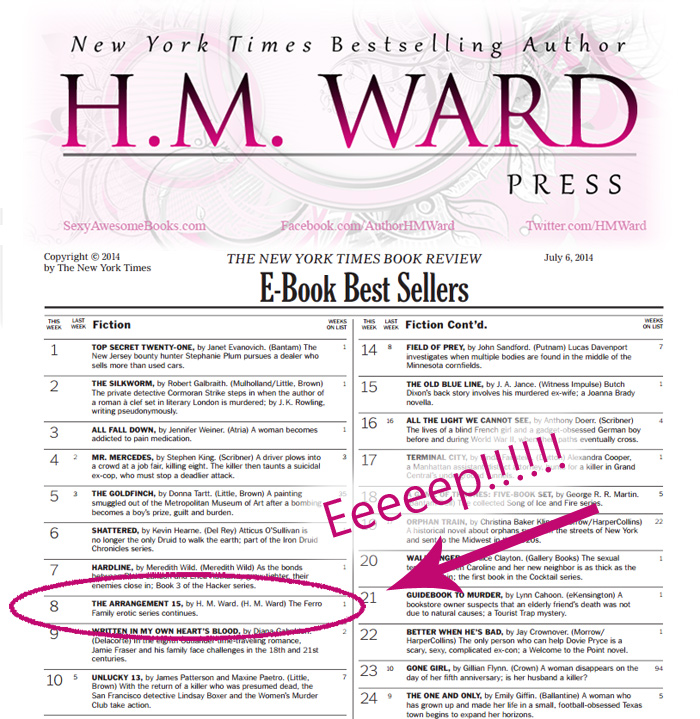 OMG! THANK YOU! THANK YOU! THANK YOU!!!!!! THE ARRANGEMENT 15 made the NEW YORK TIMES bestsellers list! Eeeeeep!!! Dude, this is something that I never thought would happen-like ever- this makes my 16th NYT bestseller in a little over a year. It's CRAZY CAKES, MAN! I feel like I should get a fluffy dress and have a party. Maybe swing dance?
Dream big. Keep on truckin' b/c you never know which book it will be. Long live fankenferro! Bwhuhahaha. And that book had a nice guy hero. It was a total wtf. Seriously. No alpha male. No sex. And it was NA. *blinks* It musta been the swing dancing and the saddle shoes. Saddle shoes are sexy.

Just had to share. Talk about weird milestones that I never thought would happen. Indies can do anything! Go us! Go us! Eat cake trad pubs! Bwuahahahaa!!!!
Mmmmmm cake.
Okay, I'm supposed to be finishing a series and I'm procrastinating. That said, go indies! Saddle shoes are sexy! Men who can swing dance are sexier! And I need some cake!
(PS – a little tip – brand the hell out of EVERYTHING!)

SIXTEEN!!!! AHHHHHHHHHHHHHHHHHHHHHHHHHHHHHHHHHHHHHHHHHHHHHHHHHH!!!!!!!!!!!!!!!!!!!!!!!!!!!!!!!!!!!!!!!
Thank you so much!!! More Ferros coming shortly.