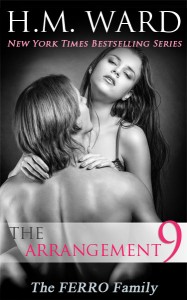 THE ARRANGEMENT 9 was released today! Wahoo! More Avery, more Sean, and cowboy Marty! Hee Haw!
Volume 9 in the New York Times Bestselling Arrangement Serials
When Avery finds out that the cowboy who requested her services for the night is Marty, things take an unexpected turn. If Avery declines her friend, she'll be in trouble with Miss Black, but if she accepts–this could mean a new, normal relationship and saying farewell to Sean forever.
Genre: New Adult Romance
This story unfolds over multiple volumes approx. 20,000 words each.
~The Arrangement Vol 1-9 are on sale now.~
FERRO family novels: DAMAGED & STRIPPED
GRAB THE ARRANGEMENT 9 NOW AT THESE RETAILERS:
This is not the final volume. ARRANGEMENT 10 will be released in 3-4 weeks. Keeping them coming fast, and be prepared for the series to tangle with the other FERRO FAMILY novels (DAMAGED, STRIPPED, etc.)