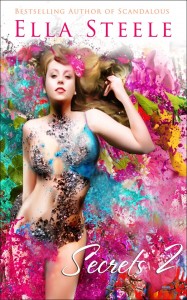 SECRETS VOL. 2 by Ella Steele was released today!
DESCRIPTION: Cole is hiding something, but Anna has no idea what. Her attraction to the wealthy artist is untamable and completely inappropriate. He's her boss. He's twice her age, but that doesn't change her feelings for him. Anna's dreams are filled with Cole doing sexy things to her—things she can't forget at sunrise. To make matters worse she has no idea if he feels the same way.
When Cole offers Anna a prestigious job at Le Femme after graduation she doesn't know what to do. If Anna takes the position she can kiss her previous career plans good-bye, but she can't walk away from Cole. Not yet.
Each volume tracks a different stage of Anna and Cole's relationship.
Vol. 1
Vol. 2
Vol. 3 release date: Sept 2012.
Genre: Mature YA/ New Adult
Go get SECRETS VOL. 2 now at:

Nook and Kobo will follow shortly. Thanks to everyone for trying this new series! You guys rock!