RISE OF THE OLYMPIANS 2, book 2 of 4 in the RISE OF THE OLYMPIANS series by the awesomely talented Belle Ward released today!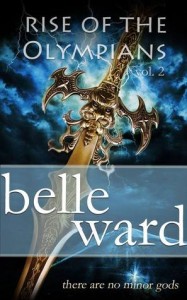 Description:
"A swicked adventure that will leave you smiling and wanting more." -HM Ward, New York Times Bestselling Author 
There are no minor gods. 
I thought things were strange already, but it got even weirder when golden, robotic women kidnapped us. They're strong, swift, shiny, and made from pure 24 karat gold. These chicks could bench-press a dump truck. Things are looking less mythical by the moment. If this is all true, and I really am a Greek goddess, it means I have to figure out how to fight the biggest, baddest monster ever. Walking into an epic battle of the gods is not a priority, but it seems I don't have a choice. Suckage.
I should have taken ninja classes, because I'm totally screwed.
Genre: MG/YA Paranormal Contemporary Greek Mythology Adventure 
Type: Novella, 1 of 4 
Length: Approx. 100 pgs ea.
GRAB IT TODAY AT THESE RETAILERS:
WHAT OTHERS ARE SAYING ABOUT RISE OF THE OLYMPIANS 2:
"Greek Gods Galore! Super funny and exciting for all ages!!" -Violet Hat
"Never thought I would enjoy reading Greek Mythology, but this book proved me wrong!!" -Surgtech 
"I love Greek mythology and Belle has brought it into the present in a clever and riveting way. I got so caught up in it that I couldn't put it down until the end." -Amy