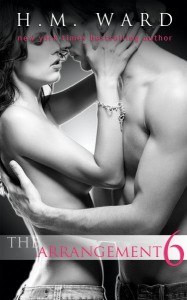 THE ARRANGEMENT 6 was released today!
Description: Volume 6 in the Arrangement Serials by NY Times Bestselling Author H.M. Ward
Just as Avery thinks she finds balance with her position as a call girl and her relationship with Sean, everything changes. The relationships that she has depended on are suddenly gone. After years of friendship, Avery is forced to face the cold hard truth–there is no place for feelings in this kind of business.
Genre: New Adult Romance
This story unfolds over multiple volumes approx. 20,000 words each.
~The Arrangement Vol 1 – 6 are on sale now.~
GET THE ARRANGEMENT 6 NOW AT THESE RETAILERS:
Kobo and paperbacks will follow shortly.
Also, some exciting news for THE ARRANGEMENT series! It's being made into audiobooks! Production is underway and the narrator is awesome! I can't wait to share those with you! So excited!!!