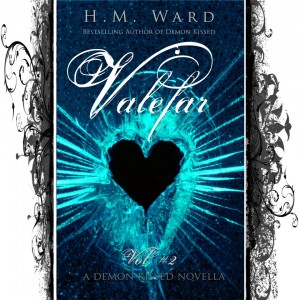 VALEFAR VOL. 2 (A Paranormal Romance Novella: Collin Smith #2 in the Demon Kissed Series) by H.M. Ward was released!
As many of you already realize, the Demon Kissed series is broken up into three parts.  Part 1 is Ivy's story (Demon Kissed books #1-5) and a great place to start, but there are two other entry points into this series.
Eric's story is told in Fall of the Golden Valefar (yet to be released).  Chronologically, Eric's stories take place after the last Ivy Taylor book, in a post-apocalyptic world.  This is another entry point into the series.  You can read Eric's stories alone, or read it in conjunction with the others, which will give them a lot more depth.  Fall of the Golden Valefar Book #1 will be released April 30, 2012.
Collin's story is told in the Valefar Volumes and takes place about a year prior to Demon Kissed #1 (Ivy's 1st book).  The Valefar Volumes reveal more twists and turns, and a lot more back story about the inner workings of the Valefar, and lots more of Collin!  This is another entry point into the series.  Valefar Volumes can stand alone, or add more depth to the rest of the series.  All three of the major characters are woven in and out of Valefar.  If you read Demon Kissed first, you can see what's happening and it creates even more tension that makes reading these little books extra enjoyable.  Valefar Volumes are also a lot lighter, like the first Demon Kissed books, which younger readers will enjoy.
Feeling confused?  Think of it this way: The Valefar Volumes are to Demon Kissed what Episode 1 is to Star Wars.  Get it?  They stand alone, but the stories are woven together.
Valefar Vol. 2 description:
"The dangerous and beautiful Collin Smith just made the biggest mistake of his life, and there is no way to fix it. In his quest to restore his soul, he destroyed the only person he truly cared about, Ivy Taylor. Collin tries to deny his love for her, but his desire to protect Ivy drives him to do things Valefar shouldn't do. If Collin exposes his weakness—his affection for Ivy—he endangers them both and risks the wrath of Kreturus."
The VALEFAR volumes are meant to read in one sitting, and generally takes about an hour. VALEFAR VOL. 2 is a YA Paranormal Romance and has 13,223 words (90 pages). VALEFAR VOL. 3 will be released Summer 2012.
Grab Valefar Vol. 2 now on Amazon!  Nook and paperback to follow!