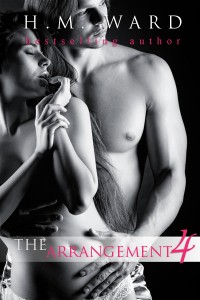 THE ARRANGEMENT VOL 4 is finally up on Nook! Hooray!
Description:
"Volume 4 in the Arrangement Serials by New York Times Bestselling Author H.M. Ward
Avery finds out too late that her heart isn't cut out to be a call girl. She's too attracted to Sean. Avery doesn't just want Sean's body, she wants his heart. When he sent her away, Avery was devastated. Trying to pick up the pieces is hard, especially since she can't get another job.
Caught in an impossible position with her employer, everything hinges on making this next client happy, but things don't go as they should. To make matters worse, Sean shows up at the worst time. Avery dreams of a chance to start over, to erase Sean from her life forever and leave her old life behind. But, it's beginning to look more and more like just a dream."
Genre: New Adult Romance
This story unfolds over multiple volumes approx. 20,000 words each.
~The Arrangement Vol 1, 2, & 3 are on sale now.~
GET THE ARRANGEMENT VOL 4 NOW!
iTunes, Smashwords, and Kobo links will appear soon.
What fans are saying:
"By far the best installment yet. I truly felt Avery's pain when she felt rejected by Sean. Although emotional there were parts where I was laughing out loud. You will not be disappointed. So glad there is another installment coming. Can't wait to see what happens next! Awesome emotional roller coaster! " -Auna
"This series just keeps getting better and better." -Brittany
"This story has had me hooked from the very start! I love how independent Avery is. I love a strong female that you can root for, someone who has some fire to her. Avery is definitely that girl! Sean shows us a little more this book and we see what happens in the darker side of Ms.Black's company. She's definitely not an enemy I'd want! All in all, once again, I have to give this hot, action packed steam fest five stars!" -Littleboysmom
"This series has hooked me and reeled me in. I had this volume read the night I received it and read it a second time before I went to bed. After reading this one, I am counting down the days until the next one is released. I was so caught up in the emotions that I was angry, I laughed, and I cried." -Jodie D.
*****GET READY FOR MORE!*****
Thank you so much to all the awesome fans who love THE ARRANGEMENT series! As requested, volume 4 is NOT the final book in this series. Hooray!  Volume 5 will be out in a few weeks and you'll get more Sean and Avery, and have the chance to delve deeper into their lives.