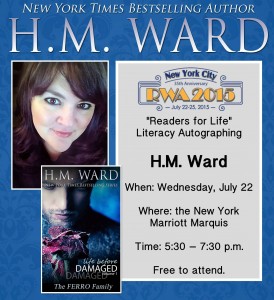 Meet NEW YORK TIMES BESTSELLING AUTHOR H.M. WARD at RWA in NEW YORK CITY TODAY!
This event is FREE to attend and all proceeds from book sales go to literacy charities. Win-win! All books must be purchased on site (i.e. no books from home are permitted).
The first person to find me, gets a FREE sparkle Ferro t-shirt.
Books are in limited quantities and sold on a first come, first served basis, while supplies last.
A couple collectors' edition  DAMAGED 1&2 hardcovers will be available for $10 each, for this event only (reg. price $199). 1 per person.
Come meet me! Get your new book signed! Get your face signed! I REALLY want to sign someone's face. Will you let me?
BE THERE EARLY: Although the event starts at 5:30pm, line ups will start as of 1pm. Make sure you show up early!
DEETS: The signing will take place at the Marriott Marquis in New York City on Wednesday, July 22nd from 5:30pm to 7:30pm but line ups start as of 1pm.
WHERE TO FIND ME (a.k.a. the Ferro treasure map):