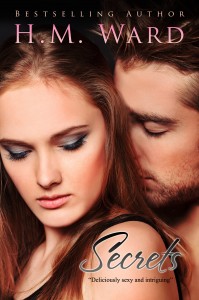 SECRETS VOL 1 is only 99¢ today on Kindle!
SECRETS is a sexy, fast paced story about college student Anna Lamore and famed photographer Cole Stevens.
Description: Volume 1 in the Secrets Serials by NY Times Bestselling Author H.M. Ward
Sex is supposed to be sexy, tantalizing, and completely erotic, but Anna never seems to find the right guy. This one seems to be a germ-a-phobe, and the previous boyfriend wasn't much better. Anna just wants to be wanted. Is that too much to ask?
As Anna tries to wiggle out of one relationship, a new one surfaces, but it's forbidden. Cole Stevens is twice her age, arrogant, rich, sexy as hell, and her boss.  When Anna's internship plans derail, she ends up interning at Cole's elite New York City studio. Close proximity leads Anna to discover that the billionaire bachelor is emotionally scarred. Everyone has secrets, but Cole's run deeper, cutting him to his core. Cole is trouble in a sexy shell. He's nothing Anna needs and everything she wants.
99¢ TODAY ONLY AT KINDLE:

Genre: New Adult Romance
The entire Secrets series (Volume 1-5) is on sale now.
Dudes, I'm going to do an entire post on serials, but in case you don't know the diff b/t a novel and a serial, here's the drive-by version: A novel is a long story that you can settle into, typically over 50K words or 250 pages. The story has a single climax and usually unfolds like a bell curve. A serial is a story that unfolds over multiple volumes, by design. Its' shorter (this book is about 32K words or 125 pages), each one has it's own climax, it's cram-packed with emotion, and it ends with a cliffhanger.
The entire SECRETS series is out, so you don't have to wait for the next volume. Score! Pick it up and see why this series is so popular.