LIFE BEFORE DAMAGED, VOLUME 2, by New York Times Bestselling Author H.M. Ward is out today!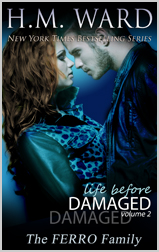 Description:
BY NEW YORK TIMES BESTSELLING AUTHOR HM WARD
Guilt ravages me, swallowing me whole. It steals my sleep and knots my stomach. I was the princess, the perfect Granz heiress, but no longer. That part of my life went up in flames, taking my future with it.
What remains is a shadow, a girl with no future and a terrible secret. There's only one soul who knows the extent of my sins, and I can't shake his beautiful face from my mind. The memories of being near him that night are charged. They linger, but going after Pete is like trying to catch smoke in my hand.
The pull toward this sexy man is unreal, and that's what I keep telling myself—the Pete Ferro I saw that night doesn't exist. There is no poet, no philosopher, no artist. He's a player and I'm his newest toy.
Genre: New Adult Romance 
This story unfolds over multiple volumes 
Length: Approx. 130 pgs 
BUY IT TODAY AT THESE RETAILERS:






(print version to follow)
What readers are saying about LIFE BEFORE DAMAGED, VOLUME 2:
"I loved Peter in Damaged 1 and 2, but I love him even more as I read Life Before Damaged! This book had me going nuts wanting to know what would happen next, can't wait for Vol. 3 to release!" — Christy
"I love how you are reading along and then BAM! something you remember from Damaged pops up. It's like you know just enough of the story to want more. Bring on LBD #3!" – Brittney
Happy Reading!