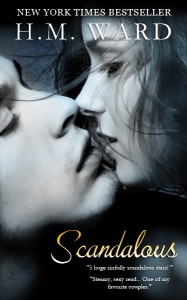 This week has been amazing! SCANDALOUS by H.M. Ward (me!) hit the New York Times Bestseller list! I had no idea it was even there. Someone had to tell me.
SCANDALOUS is a steamy contemporary romance where a woman finds herself facing the man and the life she had left behind when a moment of desperation compels her to follow a job lead as an artist's assistant.
It was my debut romance novel, so this is totally amazing! It was written in one week back in April 2012. Someone awesome wondered what a romance book would look like, if I wrote it. So I did it. That's where SCANDALOUS came from.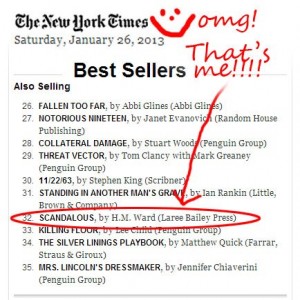 For the past 18 days the book has been in the top 100 on Amazon and hugging the top 100 line on B&N. I changed the cover and put it on sale earlier this month, and it took off.
The first cover shows the painting that's in the book. I need to figure out how to showcase it, because it's really cool. If you search for SCANDALOUS on this blog, you'll see it.
It's way cool.
The sequel SCANDALOUS 2, will be released on Valentine's Day, Thursday, February 14, 2013.
That's right, book #2 – more Jack and Abby! The second novel picks up where the first one left off.  I can't wait to share it with you! I'm so excited!
And if you gotta see the list to believe it (I did!) here it is. I drew the happy face! It's totally amazing! I was doing the happy dance all night.
GET SCANDALOUS FOR ONLY 99¢!
Thank you to everyone who bought this book and recommended it to their friends. You guys are so freaking awesome, I can't even tell you! I saw SCANDALOUS plugged all over the place yesterday.