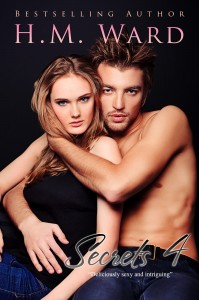 SECRETS Vol. 4 was released today!
Description: "At night, when Anna closes her eyes, everything comes rushing back; the sensuous sound of Cole's voice, his scalding touch, and the way his eyes roved over her body like he could never get enough. Flirtation, promises of passionate sex, and nights filled with Cole's sexy smile are gone. Anna worries that her crush on Cole was something more, because her life is total agony without him.
Anna realizes she's at a turning point. Someone burned her. This isn't a little blister that will go away on its own, it's an inferno that's destroyed everything it touched. In a matter of minutes, Anna lost her future and the man who holds her heart."
Genre: New Adult Romance – Not appropriate for younger readers.
GET SECRETS VOL. 4 AT THESE RETAILERS:
REVIEWER'S COMMENTS:

"Another fantastic novel that will leave readers guessing until the very last pages. Anna continues to be a great and relatable character whom I admire greatly for following her dreams and her heart. My favorite Secrets volume so far!! I hope you all pick up a copy and make sure to leave reviews of your own for H.M. Ward's amazing books!" -Reese's Reviews

"The love scene between and Anna and Cole was a long time coming and WOW is it HOT HOT HOT. I love this series. Well written and beware….the book ends with a cliffhanger….hopefully we won't have to wait long to see what happens next! 5++++" -Auna W.
You won't have to wait very long for Secrets Vol 5! It will be released in mid Dec 2012. Thank you to all the fans who love this series! I can't tell you how many emails I get every day begging for more Anna and Cole. Enjoy SECRETS 4 and have a great Thanksgiving!