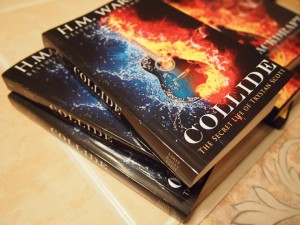 Get ready! It's finally here! H.M. Ward's online author workshop!
DATE: Feb. 1, 2014
TIME: 2pm EST – 3pm EST
LOCATION: Online – this is a webinar/ online workshop
COST: $49 (100% of your payment for this workshop is being donated to NOW I LAY ME DOWN TO SLEEP, an early infancy non-profit organization that helps grieving families with infant loss). I'm paying the payment processing fees, webinar costs, and anything else that comes up myself.
I've been asked to speak all over the place this year, and decided this is an easy and inexpensive way to hold a world-wide workshop for authors without ever leaving your living room.
About me:
H.M. Ward is an Indie author (self-published).
H.M. Ward has sold 4 MILLION books since her debut novel released in 2011.
Her novel DAMAGED: THE FERRO FAMILY was the #1 bestselling Indie Kindle Direct Publishing and CreateSpace title of 2013.
DAMAGED: THE FERRO FAMILY was the #14 bestselling title on Amazon of 2013.
In 2013 alone Ward had 11 different titles on the NEW YORK TIMES bestsellers list.
She is a NEW YORK TIMES, WALL STREET JOURNAL, & USA TODAY bestselling author.
Her readership has grown to a social reach of over 20 million people.
H.M. Ward became a full time writer less than a year after her first novel appeared on the market.
THE ARRANGEMENT is her bestselling series of new adult romance serials about the eldest Ferro brother, Sean.
H.M. Ward has been a top 100 Amazon author every month of 2013.
On average in 2013 she released a new title every 2.5 weeks.
H.M. Ward owns H.M. Ward Press.
Series: Ferro Family, including: Damaged, The Arrangement, The Proposition, & Stripped. More romance series include Scandalous, Secrets, and The Secret Life of Trystan Scott. Paranormal Romance Series: Demon Kissed, Vampire Apocalypse.
If you haven't attended an online workshop before, it has audio – you'll hear me speaking, and you can see my computer screen. If you want to ask questions, there's a place to type them in. It works really well.
The content of this workshop will be based on the feedback given by the registrants. From speaking with many people, it sounds like we'll be talking about how to increase readership and marketing techniques. During the first part of the workshop I'll talk and address the info you sent in prior to the workshop, then we'll switch to a Q&A format. I think that will be the most productive way to do things. It should give you information that you can run out and use right away, which is a big deal.
You are welcome to attend whether you have published or are getting ready to publish your first book.

I'm obviously happy about self-publishing, so everything will have that slant. Yeah Indie writers!
Before the workshop, you will get log in information so you can attend this event online. Have I mentioned this event is online?

Click the button below to register. Please note that seats are non-refundable. There are a VERY limited number of slots. In the event of a cancellation on my part, you will be refunded in full.
Please respect that THIS EVENT IS FOR AUTHORS ONLY.
WORKSHOP SOLD OUT