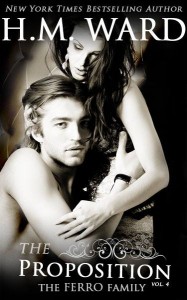 NEW RELEASE TODAY
THE PROPOSITION VOL. 4 THE FERRO FAMILY
By NEW YORK TIMES Bestselling Author H.M. Ward
~USA TODAY BESTSELLING SERIES~

Blackmail. Sex. Ferro
There are some mistakes that are too big to fix. I'll never recover from this one. Damn it, I called Bryan an addict and treated him worse. Maybe it was wrong for him to approach me the way he did. Maybe it wasn't right for Bryan to just take what he wanted, consequences be damned. I can't blame him, though–not now that I know the truth.
Genre: New Adult Romance
This story unfolds over 5 volumes approx. 125 pages each.
GRAB THE PROPOSITION 4 AT THESE RETAILERS TODAY!
*NOTE: Get it in the 1st 24 hours and receive additional bonus content!*
(paperback will follow)
What Readers Are Saying
"This book leaves you wanting more. ABSOLUTELY GREAT BOOK :-)" -Alicia Thomas's
"We have many questions answered this time around, and of course in great Ferro fashion there is so much meddling and manipulation going on."  -Melissa
"To say the book is hot is an understatement. I mean helloooo, it's Bryan Ferro." -Christon
"Ferro may be his last name but Bryan is nothing like his cousins. This is by far (In my opinion) her most steamiest, sensual book, chapter, installment yet." -Felicia