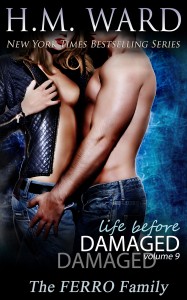 GET YOUR HANDS ON MORE PETE FERRO TODAY
A LOVE STORY ABOUT AN ALPHA MANWHORE AND A GOOD GIRL, BY NEW YORK TIMES BESTSELLING AUTHOR H.M. WARD
Money. Power. Sex.
Billionaire Pete Ferro is a manwhore and always will be. There aren't fifty shades of gray when it comes to love. Sometimes all we have is the here and now, and there aren't second chances — so why pretend? That's the part I don't understand. Why does he act like he wants me one moment and then hate me the next?
The man is sexy, with dark hair and a dimple at the corner of his crooked smile. He's forever swarmed by women, never wanting for anything. He doesn't want love. He doesn't want me.
But those poems he writes, and the verses that run deeper than his alpha male exterior lets on, it leaves me wondering if I've fallen for a man or a myth.
Genre: New Adult Contemporary Romance
This story unfolds over multiple volumes
Length: Approx. 130 pgs
BUY IT NOW!
What readers are saying about LIFE BEFORE DAMAGED, volume 9:
"This was a sensationally emotional read. The baring of hearts and souls." - Kelli
"From beginning to end LBD 9 was packed full of heart pounding emotions. Unable to catch my breath and calm my heart, I continued on reading, filling my brain of every single Peterlicious moment!" - Cary
"This book should totally come with a disclaimer! I swear, if you are not already in love with the infamous Peter Ferro, I can guarantee you will be after reading LBD9!!" - Marissa