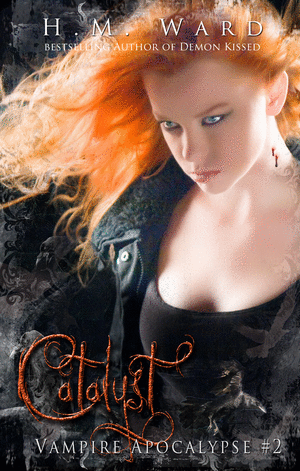 The 2nd book in the bestselling Vampire Apocalypse series will be released on October 20, 2012!
I can't tell you how many emails and messages I've gotten from fans asking when this book will be out. It got delayed a little bit. What can I say? I'm a bit of a control freak and wanted to hold onto it a little longer.
Vampire Apocalypse is the major novel series I'm working on right now, meaning they are ~ 300 page novels (trade paperback size) similar to the length of the books in the DEMON KISSED series.  I expect book #3 in the Vampire Apocalypse series, DIVERGENT, to be released in December.
The giveaway for signed copies of CATALYST is still going on. Want to enter to win a copy? Simply post your review of BANE on Amazon after reading the 1st book. That's it! I'll pick a couple of awesome people when the time comes. Winners will be announced on the blog. US only.
I can't wait to share the next part of Kahli's adventure with you! If you haven't read BANE, make sure you grab it while it's on sale for 99 cents! It'll go back to regular price soon.
Want to get an email reminder on release day? Text AWESOMEBOOKS to 22828. Have a great weekend!