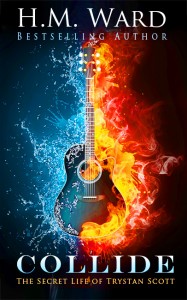 Says who? Says you guys!
OMG! Seriously. You guys are gonna make me cry! Check out a couple of the ♥ COLLIDE: THE SECRET LIFE OF TRYSTAN SCOTT #1 ♥ reviews:

"I have read all of H.M. Ward books n I'm n love with them all. This book Collide is another great book. It's short, but I still love it. I read it n a day, but I wish I could find a man like Trysten for me…lol I hope Mari gives Trysten a chance because he seems very sweet, special. Great job Ward, keep writing cause u make my day a better day when I can sit down n read great books by great artist." -Deda via Amazon

"I am a huge fan of H. M Ward. After reading Collide i can say it is my favorite work of hers. it took me only a few hours to read it but i was addicted after the first page. I love the way Ward writes. Throughout Collide I has this feeling of anticipation and nervousness. In a way I felt the way the characters felt, and i love when an author can write like that. It makes me love the book even more. Collide is an amazing book and I was addicted. Collide is just and addicting and agonizing book to read. I could not read fast enough. I would find myself jumping lines so that i could know what would happen faster. Ward definitely worte an amazing book. The emotions, actions, and thoughts that the main charaters where having are exactly how people my age (i am 16 years old) would feel and think and act. Collide is definitely a must read! 5 stars!" -Xena0128 via Amazon
I'm so glad you guys like it! I haven't written anything like it before and it's so nice to read your comments and reviews! The fact that you all love it blows me away. I can't wait to put out the second volume and see what you think!
Grab COLLIDE now and see what they're talking about!
BACKDRAFT: THE SECRET LIFE OF TRYSTAN SCOTT #2 will be released on Oct. 1, 2012. Want to get a reminder via email so you don't miss it? Text AWESOMEBOOKS to 22828 or click here. Hope you had a great weekend!