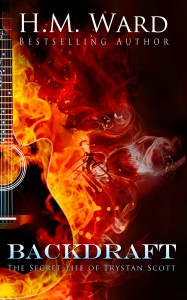 BACKDRAFT: THE SECRET LIFE OF TRYSTAN SCOTT #2
DESCRIPTION: "When Mari realizes that Trystan is the internet megastar, Day Jones, she can't speak. Every time she listens to his song, it leaves her feeling so much. That song is bewitching. Everyone she knows heard it. As soon as it appeared on YouTube, it went viral, and then the guy who wrote it disappeared. Despite agents and record labels trying to lure Day5705 out, he remains anonymous. No one knows who Day Jones really is—except Mari.
To Trystan's relief, Mari agrees to keep his secret.  Part of him regrets uploading the song, but when he sings to Mari the song that once brought him solace, it fills him joy. In a life like his, joy is fleeting and Trystan plans on grabbing hold whenever a shot at happiness appears. To his surprise, Mari doesn't realize the song is about her. When Trystan tries to push her to see, he jeopardizes losing her entirely.
One misplaced kiss topples the fragile relationship, leaving Trystan reeling, trying to assemble the pieces and convincing Mari that she's not just another conquest, even though everything he did—everything he said—makes it seem like she is. It isn't until Mari decides that being the good girl isn't working that things steam up. Trystan knows she wants to hook up with someone, and he doesn't know if he should stop her. Every attempt he makes to win her over goes bad and pushes her further away.
As the world gets one day closer to tracking down Day Jones, Trystan is one day closer to graduation and leaving this life forever. If Mari doesn't realize he loves her by then, she never will."
This is the second book in THE SECRET LIFE OF TRYSTAN SCOTT series. These books are available in mass paperback and are about 240 pgs. They are condensed, steamy YA romances pivoting around Trystan and Mari. If you loved the Ivy/ Collin relationship in the first DEMON KISSED book, this is like that, but MORE!
BACKDRAFT: THE SECRET LIFE OF TRYSTAN SCOTT #2
is on sale today at these retailers:




(The Kobo link will be updated as soon as its ready on those sites)
The paperback will be out early next week. If you are ever looking for a title and can't find it, check out this page. It lists all of the H.M. Ward books and links to retailers selling the books and ebooks.