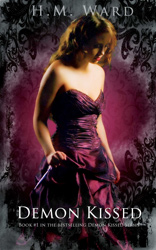 DEMON KISSED IS 99 CENTS FOR THE NEXT 24 HOURS ONLY! Go get it!
A hot guy, lots of tension, and a kick butt heroine. The trifecta of awesomesauce, baby!

Description:
"Books like this are a rare find, especially when not that many people know about them. So I'm spreading the word! Read this book! You won't regret it!" -Amy
"This is one of the rare finds where the story draws you in and refuses to let go." -Allie B
BY NEW YORK TIMES BESTSELLING AUTHOR H.M. WARD
BOOK #1 IN THE BESTSELLING DEMON KISSED SERIES
Seventeenth birthdays aren't supposed to suck, but mine does. Literally. Before I know what's happened a guy knocks me to the ground and tries to suck out my soul. With a kiss. That's all it takes with his kind. This next part is embarrassing–I thought this guy was my boyfriend. Screw that, I thought he was human, but those creepy, blood red eyes suggest I was mistaken.
This is it, the end of my sucktacularly short life–killed by a creature that's half vampire, half demon, and smokin' hot. Killed by a kiss. It sounds poetic until it happens to you.
The world fades to black, but just as I accept my fate, someone saves me. At least I think he saved me, because I'm still alive. It isn't until much later that I learn what really happened and exactly what it cost me.
496 Pages, 3rd Edition. Young Adult Paranormal Romance.
GRAB DEMON KISSED FOR 99 CENTS AT THESE RETAILERS:




This was the first book that I published. It begins squarely in the
Young Adult
genre and shifts to
New Adult
by the end of the series. It has the same dark, evocative feel that my other novels have, plus lots of sexual tension.
DEMON KISSED SERIES ORDER:
#1. Demon Kissed
#2. Cursed
#3. Torn
#4. Satan's Stone
#5. The 13th Prophecy
ADDITIONAL DEMON KISSED BOOKS:
VALEFAR VOLUMES (Demon Kissed Novellas)
#1. Valefar Vol. 1
#2. Valefar Vol. 2