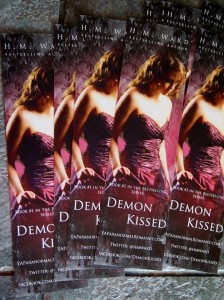 Get a FREE bookmark from the bestselling YA Paranormal Romance book DEMON KISSED!
If you haven't read the book, yet go do it. It's free for another day or two on Kindle.
The front of the bookmark is pictured at the left. They're two-sided. They other side is way cool, too. I'm not posting the pic of the back, so it'll be a surprise. The bookmarks are printed on pearl stock, so they have a really cool sheen/ shimmery thing going on.
The last few times I did this, I was addressing envelopes until my hands fell off. To keep things as simple as possible, we're going old school. If you want a DEMON KISSED bookmark, I will happily send you one. Just send me a SASE (self-addressed stamped envelope) to the mailing address below.
HM Ward
Demon Kissed Bookmark
PO Box 3621
Abilene, TX 79604
There are a limited number of these. I'll post an update when they are all gone. Thanks guys! You're amazing people! I can't wait until you see these. They are so cool!