THE ARRA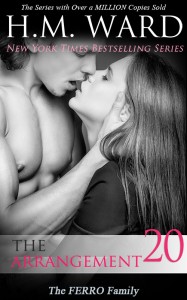 NGEMENT 20 (The Ferro Family) was released today and you get another rare peek into Sean's mind. You won't want to miss it!
THE SERIES WITH OVER 10 MILLION COPIES SOLD
Volume 20 in the New York Times Bestselling The Arrangement Series
My life fractures with a single gunshot. It pierces the night, shattering my heart. The unstoppable billionaire Sean Ferro is brought to his knees by a bullet. I can't stop it. I can't save him.
A silent scream lodges in my throat as I watch in horror. The consequences of my past decisions are catching up with me. My mother's sins are now mine, and now nothing can wash the innocent blood from my hands.
This is my fault.
I'm forced to defeat my biggest adversary alone, and the worst part is he's my only brother.
Genre: New Adult Romance
This story unfolds over multiple volumes approx. 125 pages each.
~THE ARRANGEMENT volumes 1-20 are on sale now~
GRAB SEAN TODAY FROM THESE RETAILERS:
What readers are saying about THE ARRANGEMENT, volume 20:
"This installment was everything I wanted! 20 was EVERYTHING."
- Melissa
"THIS is the book you have been waiting for! You want answers, come and get it."
- Crystal Z.
"There are twists and turns in this segment, making you feel like you are on one ORGASMIC roller coaster, the whole way through you want more."
- Cheryl