LIFE BEFORE DAMAGED, Vol.6, a Ferro Family serial by New York Times Bestselling Author H.M. Ward, released today!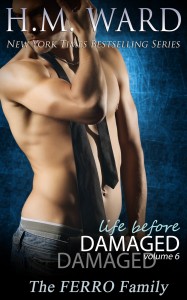 Description:
BY NEW YORK TIMES BESTSELLING AUTHOR HM WARD
Money. Power. Sex.
I torched my future with a single decision. It's like my life was taken out by a big-ass bus in one blow. I thought everything was already busted to pieces, but the more I try to fix my mistakes, the worse it gets. Taking responsibility for my actions will destroy my family, but choosing to cast my lot in with the Ferros will destroy me. But if siding with them means choosing Pete, then maybe there's a silver lining in this shitstorm… Or maybe not.
Genre: New Adult Romance
Type: Serial (this story unfolds over multiple volumes)
GRAB IT TODAY FROM THESE RETAILERS:





(Paperback link will be posted ASAP)
LIFE BEFORE DAMAGED series Teaser Trailer
What Other Readers are Saying About LIFE BEFORE DAMAGED, VOL. 6:
"It's a wonderfully emotional journey, funny and fantastic!" – Violet
"We see both sides of Peter in this book and both are HOT!" – Stacy
"I love this series because it strips down Pete's layers to find out what truly makes him tick. Love that Gina is growing a backbone. A love story full of twists, turns and OMG moments! Can't wait for the next one." – Amanda
"I love that this series brings more depth to the original DAMAGED series (which is my favorite book, hands down). LBD is a beautiful do-not-miss journey of two people meeting for a season and a reason and I'm loving every word of it. I love Gina's character so much! Character evolution buffs, this series is for you!" – Melanie
HAPPY READING!