Limited Edition Collector's Book: Hardcover of Damaged 1 & 2
~Special Sale Price FOR PICK UP AT BRITISH BOOK AFFAIR IN LONDON ONLY!~
THERE ARE ONLY A LIMITED NUMBER OF BOOKS AVAILABLE FOR THIS EVENT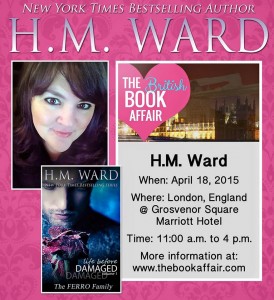 The perfect present for your favorite Ferro fan!
Both DAMAGED 1 & 2 are bound together in this limited edition hardcover book. I spent over eight months working with various vendors to make this beautiful book perfectly Peter. It's gorgeous and looks amazingly awesome! I can't wait for you to hold it. You're going to squeal!
THIS IS A LIMITED EDITION PRINT RUN, which means there is only a limited amount of copies-when they're gone, they're gone. So don't wait! DAMAGED was a top-twenty bestselling Amazon book last year, with more than a million copies sold to date. This is the first time it is being offered as a collector's har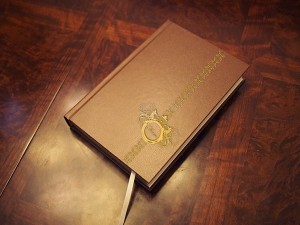 dcover.
This is the first H.M. Ward collector's book. Collector's books are for people who LOVE the story and want it in a super-swank keepsake. The cover features fine pebble grain on brown ecologically friendly fibers, made to resemble leather, but much more durable and animal friendly.
The Ferro family crest adorns the front of the book, and the title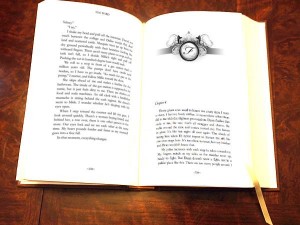 DAMAGED is down the spine. Gold gilding makes the edge of the book have a soft metallic sheen. The decorative golden, vertical band on the cover is also on the back of the book. The interior chapter headings also include the Ferro family crest (pictured above).
Larger than the paperbacks, this edition is 6″ x 9″ with 440 pages. The print run is limited to a thousand books, less than half of which are signed by the author, H.M. Ward.
Things to consider:
YOU MUST PICK THIS UP AT BBA LONDON 2015 (admission fees required)
A SIGNED book is a rare thing and makes a GREAT gift!
You can have me add a special note when you pick it up at BBA in London (April 18th, 2015)
This is the 1st and ONLY hardcover book by HM Ward to date.
This book was custom designed and is highly collectable.
This is part of the original print run of only a thousand books (I saved some for this event).
This item is not for sale elsewhere–this is the only way to get it right now.
You MUST bring your proof of payment to BBA to claim your book.
GRAB YOUR BOOK NOW BEFORE THEY ARE ALL GONE!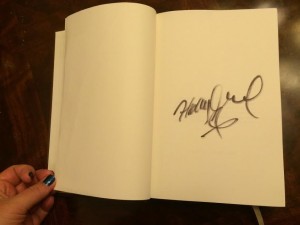 PRE-ORDER YOUR *SIGNED* HARDCOVER TODAY
Reg. Price $299
SPECIAL BRITISH  BOOK AFFAIR: LONDON 2015 PRICE
only £ 24.99
**************************
When it sells out PayPal will not allow you to purchase. A SOLD OUT sign will appear.
If you have a question, please ask. FACEBOOK is checked most frequently or contact me HERE. Please include your transaction number (the PayPal payment number if you have already purchased). Put 'HARDCOVER' in the subject line so we can answer you promptly.
*************************************************
Terms & Conditions: All transactions are processed through PayPal. I do not see any of your banking or credit card information. International buyers may be required to pay an additional tax, which is NOT included in the price. The books MUST be picked up at BBA 2015 in London, only. You MUST have your proof of purchase/ transaction ID and a photo ID that matches your PayPal info to pick up your book. Note: Books that are not picked up will be returned to stock–they will not be shipped to the buyer under any circumstances as there is no S&H fee included.