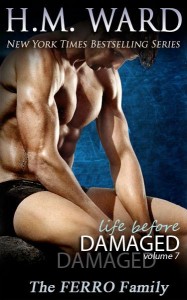 LIFE BEFORE DAMAGED 7 (The Ferro Family) was released today!
Description:
BY NEW YORK TIMES BESTSELLING AUTHOR H.W. WARD
Money. Power. Sex.
Even Pete Ferro, with that sinful body & beautiful blue gaze, can't drag me from here. My life is finally mine. Things are finally going my way.
But as my life grows content, Pete's eyes grow troubled. There's something there, something beneath the pointed words and charm–someone real–and it scares him. The real Peter Ferro frightens me, too, but I won't give up on him–even if everyone else has.
Genre: New Adult Romance
This story unfolds over multiple volumes
Length: Approx. 130 pgs
~Life Before Damaged Vol 1-7 are on sale now.~
GRAB IT TODAY FROM THESE RETAILERS:
What readers are saying about LIFE BEFORE DAMAGED 7:
"Outstanding! Holly has definitely set the stage. She's turned down the lights and created the mood. There's a limit, a very specific time frame, and the clock is ticking. A must read!" – Deborah
"I love this series because Pete and Gina have more sexual tension than Hershey's has chocolate kisses." – Cheryl
"I'd like to say that of the 7 books I think this one is the best." – Anna