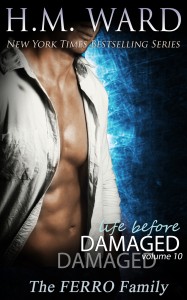 Read the highly emotional conclusion to Peter's back story.
A LOVE STORY ABOUT AN ALPHA MANWHORE AND A GOOD GIRL BY NEW YORK TIMES BESTSELLING AUTHOR HM WARD
Money. Power. Sex.
Some people enter your life for a reason, and Pete Ferro has changed mine forever. I've known since I met him we were fated. I can't say how I know, but I can feel it. Our destinies entwined the night of the rave–a union no contract can sever and so much stronger than a ring.
~THE FINAL BOOK IN THE LIFE BEFORE DAMAGED SERIES~
Genre: New Adult Romance
This story unfolds over multiple volumes
Length: Approx. 130 pgs
---
BUY IT NOW!
---
WHAT READERS ARE SAYING ABOUT LIFE BEFORE DAMAGED 10
"Her cliffhanger and teaser endings pale in comparison to the way I felt after finishing Life Before Damaged 10. It's beautiful, creative and downright epic." – Deborah
"Thank you Holly Ward for such a heartfelt story" – Kristi
"This one really moved me. This is a must read!" – S.M. Stryker
---
Need more Pete Ferro in your life? Check out this hot teaser trailer!