More about Peter Ferro's past. If you didn't think you could love him any more than you already do, guess again. That's the main comment fans of DAMAGED keep saying about this series.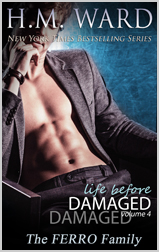 Description:
BY NEW YORK TIMES BESTSELLING AUTHOR HM WARD
Money. Power. Sex.
Just stay away from Pete Ferro. How hard can that be? But every time I turn around the man is there with that beautiful face and those wicked lips. He pins me in place with eyes that are fifty shades of blue. I become someone else, a woman who feels alive and defiant.
I'm sick of being what everyone else wants. There's a woman inside of me screaming to break free, and I know just how to release her from her bondage. Every inch of me is excited, all I have to do is follow through.
Genre: New Adult Romance (book 4 of 9)
This story unfolds over multiple volumes
Length: Approx. 130 pgs
BUY IT TODAY AT THESE RETAILERS:





(nook and paperback to follow)
What readers are saying about LIFE BEFORE DAMAGED, VOLUME 4:
"Peter is wonderful as ever, even as a "bad boy," he is wonderful. Another wonderful installment in this series!"–Priscilla Kerr
"Damaged is my favorite series of H.M. Ward and Life Before Damaged just keeps getting better and better." – Leanne Thomas
"Gina and Pete…. Holy hell! This book is full of sassy and feisty scenes. Hell let's just call it "spicy"!" – Cary Mattmiller
"What a story!! Gina and Pete's chemistry is so hot!! They have a passion that is so amazing." – Rose
Happy Reading!