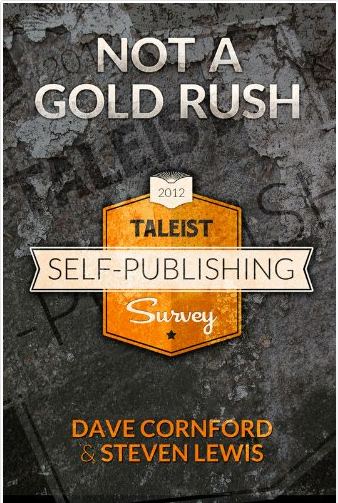 So I was flapping around on Twitter like a maimed bird, and saw references to a survey of Indie authors called the Taleist Survey.  I was intrigued.  Can you say spontaneous purchase?
From the description, I felt like I stumbled on the marketing mecca of Indie author awesomeness!  Or at least Vegas – lots of sparkles and flash.  I like sparkles and flash!
This is one of the first studies I've read about the current state of the Indie author market that was done on this scale.  Me hopes for more in the future. Okay, so I admit that I'm a  bit of a marketing whore and totally wanted this book for that marketing section.  So I slapped down my $4.99 and read that bad boy.
So.  There were two a-dher things with the marketing that I skipped.  Other than that, I was surprised to find many of the stats and figures were a reflection of my experience.  I'd be lumped into the people who live off their writing.  I'm in that younger crowd of go-getter chicks with a higher level of education, who tends to write more than your average Joe, had an agent, and chose to self-publish.  I brought my own fanbase with me, but I snagged them before my 1st book was released.  I jumped in without a net and hoped I wouldn't land on my head.  My head's okay.  So far, so good.
Things that surprised me – chicks dominating the Indie sales.  Wahoo!  Go girls!  Women make up most of that pool of super-sellers, and of that group the biggest chunk of the pie is going to romance writers.  Which makes sense since other stats say romance titles make up 40% of all book sales.  I write mostly YA and just started writing adult romance (SCANDALOUS under the pen name Ella Steele).  This book had no spring board.  It's doing well, better than some of my other titles, chugging along at a steady rate.  I didn't know what to expect shifting genres like that.  I wish there were more details in the survey about writers who wrote dual genres.  Alas, it wasn't there.  The top catagories were romance, thrillers and sci-fy.  Not YA.  I'm an anomaly.  But you can see that those three genres dominate the market by scanning the top seller list at any time.  So the facts mesh.  They are lining up like nice little ducks.
I would have liked to see more information on sales platforms and the affect on profits.  The survey mentioned that most people had all their eggs in the Amazon basket, but didn't address the other platforms very much.  Maybe that was because the survey is only for sale on Amazon.  Screw B&N!  Ha ahahahaa!  Okay, maybe not.  My B&N sales are roughly the same as my Kindle sales.  Just saying.  Might be worth looking at in the future, book survey boys.
You might be wondering what the average income for a self-published writer was in 2011.  According to the survey, it was $10,000.  Don't get all excited, because the average is an average isn't actually what most people make–it's not the typical self-published author's total sales for last year.  Out of about 1,000 people that responded to the survey, ~1/2 answered questions regarding income.  So you're down to around 500 responses.  The pool is kinda small.  The average author – the median – only netted $500 last year.  The average was bumped up by the superstars rocking it out to the tune of $100,000 last year.  Those rock stars had 8 or more books that they were selling.  They took more time to write, edit, and professionally awesomeify their books.
At one point in NOT A GOLD RUSH the author hypothesized that the self-published rock stars just had better books.  All fingers point that way if they sell more, had an agent, and walked away from traditional publishing with a drooling puppy fan base in tow.
I'm not sure what I think about that.  Maybe I have self-esteem problems and can't admit my books are good.  I'd say that the book can't suck, but that's a far cry from saying that its better than the rest.  A solid C book can rock the sales charts.  We've all seen it and wondered how it happened.
I think rising to rock star status is primarily based on three things:
Avoiding sucking.
Writing something that has obvious marketability.
Luck.
Avoiding sucking.  That's self-explanatory.  As for the marketability, I have to remind myself that at times.  I had an awesome idea and then think about it as wonder who would want to read that?  If the only person you can think of is your mom and that weird guy on the bus–you know, the one that thinks you're hot–well, you probably can't rock that title.  But then I read the comments of the WOOL guy (Hugh Howey), and think, What do I know?  Can you really predict these things?  According to him, the answer to that is a big fat, hell no.  He's adorable, btw.  The way he's handling his instant rock star status makes me what to pinch his cheeks.  His book follows step #1.  It's great.  And it's marketable with mass appeal… even if you hate wool.  Dude sold movie rights last week.  It fits into the top three best selling genres, too.
Luck plays a part too.  Right place right time.  I think that goes that way for everyone.  I'm not the lucky one in my family, so I'm hoping to be standing next to my brother at some point and having a money tree fall from the sky with a legacy contract stuck in the branches.  I'd kill the tree with my blackthumb (in case you wondering why I wouldn't fight him for the tree).  We both know what a sucky gardening girl I am.  :D
All in all, I think The Taleist Survey had interesting information.  I'd hoped they would have released more of the actual stats, instead of presenting mostly their interpretation of the facts and figures.  Sometimes my crazy brain connects other dots and sees other parallels.  Not giving out more data made me unable to do that.  An appendix with all that stuff would be nice.  Ah-hem.
This is the book, in case you wanna peek: Not a Gold Rush: The Taleist Survey  Prime members can check it out for free.