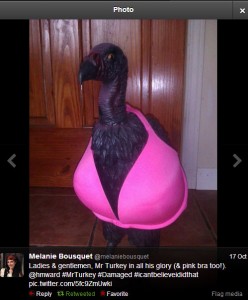 Below is a letter from a fan. I am always so grateful every time one of you takes a second to write me. I read all of them and it's beyond awesome because:
One life touches another, offering hope, laughter, and joy.
My books have done that for you guys and your letters do the same thing for me. Life is hard, and it's awesome to find so many friends out there.
I know I sound like a dork, but it's been a truly amazing experience and to share your lives is just wow. Anyway, I thought I'd share this fan note with you guys. And yes, the she's the proud owner of the Turkey Vulture in the Pink Bra.

Thank you so much.
###
"Dear Ms. Ward,
I am used to reading paranormal and fantasy novels, but I had recently given into social pressure (and curiosity) and was introduced to the romance/erotica genre via the 50 Shades and Crossfire series. I had my doubts but I realized that I actually liked some of what I was reading (although the quality of the writing in 50 Shades leaves a lot to be desired, but that is another topic of discussion!).
This past June, I was looking to load up my Kobo with a bunch of new books for my summer reading. We were going a little road trip with the kids and I wanted a little something to keep me busy while the hubby was driving and the boys were arguing in the backseat. Having seen Damaged on Kobo's top 50 best seller list for a while and with Damaged 2 in the top 10 not long after it's release, I figured to give them a try. Besides, they were inexpensive and the description caught my attention.
I started reading Damaged without any particular expectations besides light entertainment (I mean, how serious can you take a book with a half naked gorgeous dude plastered on the cover right?). Let me just say that my husband got REALLY annoyed with me, because I basically ignored him throughout the entire road trip! What a surprise!!! I would stop breathing whenever things would get intense between Sydney and Peter, I would break out in a huge grin during their comical banter, I even laughed out loud during the squirrel and turkey scenes!
There are certain things I particularly enjoyed while reading Damaged 1 & 2:
- Contrary to some romance / erotica books out there at the moment, it was not overloaded with sex. I realized that the power of anticipation is so much stronger!!! This series was so much hotter than some more descriptive stuff I've read.
- You put a lot of emphasis on storyline and description than in sex and dialog. Sex and dialog are good in a book, but you need context to make it great and you that so well!!!
- THE DANCING!!! I danced for 15 years and miss it tremendously. When the dancing started in the first book, I was hooked! What a fun and interesting spin on the story! I LOVED IT! I LOVED IT! I LOVED IT! In fact, you inspired me so much, that I've signed up for swing classes this fall… I have been talking about starting up dancing again for the past 5 years but never actually did it. This book convinced me to go back!
- Sydney is a strong, SMART and funny female character! I hate being inside the head of a stupid, weak and wishy-washy character (Anna in 50 Shades, Abby in Beautiful Disaster).
- The devil is in the details: even the secondary characters are great! I laughed during the "abs of steel" scene in the dorm room. Everything seemed so real. You make the reader feel like they are there in the room with them. Every little detail makes an enormous difference in the reading experience.
After having read Damaged 1 & 2 twice, I bought all The Arrangement books that were out at the time (1-8). I had emotions flying all over the place. I had so much trouble getting through number 4 because I was crying so much. Reading through tears in not easy. You make Avery's emotions so accessible to the reader, we feel her pain and sorrow along with her. Again, this can only happen when the author takes the time to describe the character's emotional journey in great detail.
Since I enjoyed Damaged and Arrangement, I bought Secrets, Scandalous and Trystan Scott. I enjoy your writing style and it is interesting to see the evolution of your writing. Once I had read them all, I got curious and checked the order in which you wrote them and, not surprisingly, my order of appreciation of your works go along with the order of release dates. You get better and better with every book!!!
Your newest books are my favorite (especially the Ferro books) but there is not a single one of your books mentioned above that I didn't like.I love your female characters. They are all women that I can admire: strong willed, smart, funny, true to their beliefs.
I am officially a fan for life!
Thank you so much for your time and creativity. I look forward to reading more of your work in the future!
From,
Melanie-Anne B.
Quebec, Canada
###