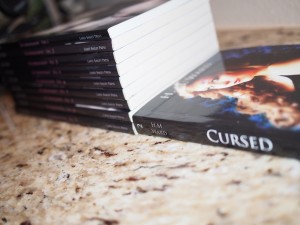 I've been getting emails from awesome fans who are curious about THE ARRANGEMENT series. It has a huge fan base – hundreds of thousands of people – and lots of new readers. Many of you already noticed, but some haven't so I wanted to make it clear.
Yes, THE ARRANGEMENT is a series. 
There's some confusion over what that means. My serials are not one book slashed into pieces. I know some writers do that, but I don't. I've actually been asked to speak about the construction of my serials at several writer's conferences next year, because the way they're written is unique. Quite frankly, if I took CURSED there and slashed it into pieces, it would suck. But, that's another topic, so I won't go into that right now.
Pictures help make it more obvious that THE ARRANGEMENT is not one book broken into volumes. For one, it's too big. eBooks are amazing, but the tactile sense of reading is lost. If a book holds my attention and I love the story, the time taken to read it flies by and I have no idea how many pages I read. That doesn't happen with paper. It's easy to see how much I read and where the end is, so I took a few pics for the ereader fans.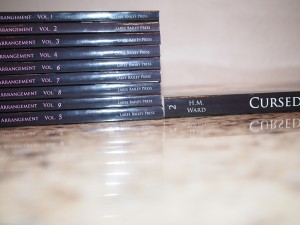 The stack of books on the left is the Arrangement series 1-9. Cursed is on the right, and is one of my full length novels. It's the 2nd book in the Demon Kisses series and is about the same size as Damaged and Stripped (both are novels). Some of my novels are a bit longer, some are shorter, but it's average novel length for me (and most romances.)
So, if THE ARRANGEMENT series were presented in novel format, they'd be onto their 4th novel at this point in time. Every 2-2.5 volumes is about novel length. The Arrangement is a series the same way DEMON KISSED is a series. Multiple books tell the story, but these come out way faster.
Why was this story written as a serial? Because there are readers who like this format, a lot. It has perks that novels don't have.
Here are the main serial novella perks:
They come out faster and the reader only has to wait 4 weeks instead of 4 months. Waiting 4 months for the next title from my favorite author sucks. Most of my fav authors put out 1 novel a year. I hate that. I want more. Now. Series like THE ARRANGEMENT offer that desire for new titles.
Serials are less risky for the reader. If I like it, I keep reading and one book didn't eat up a ton of time.
They give the reader the option to read something new between novel releases.
Serials are less daunting. If someone hands you a huge ass book, it can be intimidating. Novella length books don't typically present that apprehension.
They're fast and fun. This kind of book is supposed to be fun, and not take a lot of effort, which is why lots of people love them.
THE ARRANGEMENT series was originally written for fans to have something to read between novels. Then it became a fan-driven series where the fans' comments are actually affecting the story line. It's become an organic story, and is way cooler than anything I dreamed up when I started.
A note about it from a fan:
"Ugh!!! Okay, I'm going to get serious a little bit here and defend our girl Holly, 'cause let's face it, she's the best! I'm getting ready to post my amazon.com review for The Arrangement 2 and I'm reading other people's reviews…I respect other people's points of view and sometimes I will dislike stuff that other people like and that's okay. That's why there are so many diverse authors out there publishing.
The one argument I have trouble with is when people call The Arrangement series a scam. I did the math. It costs approximately the same price PER PAGE for an Arrangement serial (in e-format) as is does for a 50 shades novel (in e-format). Considering that you can fit about 4 Arrangement serials into one 50 Shades novel (page count and total $) and that 50 Shades was a trilogy, we can EASILY make it to 12 books and reach the same total price and page volume as 50 Shades… no one called it a scam!
If you think of books like the Crossfire series, which will probably go onto 5 books (and is more expensive per page), we could make it to 21 Arrangement serials and not go over the Crossfire budget!!!
I may be completely off the track by using this argument & it may not be right to compare series and novels in this way, but it just gets me upset when people write hate reviews and don't take the time to get their facts straight or even bother rating their review based on the material they've read ('cause most of them even say they liked the book!).
Needless to say, my review will be a lovely one full of praise and flowers! ;-)" -MelanieAnne
People ask if these will be bundled at some point. Right now there are no plans to bundle, but there are plans for the series to go on sale like the rest of my titles. The entire Trystan Scott series was on sale recently. All the titles go on sale at some point, so keep your eyes glued to the facebook page to make sure you don't miss it. Massive sale alerts also go out via email, so make sure you're on that list. (Text AWESOMEBOOKS – 1 word – to 22828 or click here to get on the list).
And, I know you're all going to ask, so here it is: THE ARRANGEMENT Vol. 10 will be out in the next couple of weeks. No, it's not the final book in the series. I'll make a huge post when the final volume comes out. This volume came out a little slower than usual because of Trystan Scott 5 and Stripped. Releasing 3 titles is one month is crazy, but I don't want to make you guys wait any longer. So BAM! 10 is coming too!
Oh, and people are asking if they HAVE to read each series to know what's going on in the novels. NO, you don't. Each series is stand alone. That means you can read DAMAGED and skip STRIPPED and you won't be lost if you pick up THE PROPOSITION (Bryan Ferro's story) later this fall. It's totally okay to know one brother better than the rest.

If you hate cliffhangers, stay away from serials in progress like THE ARRANGEMENT.