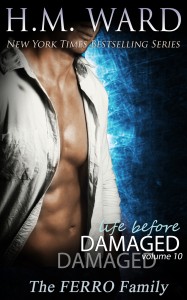 THE FINAL VOLUME in the LIFE BEFORE DAMAGED series is available for pre-order NOW! Don't miss it! 
Releases November 2nd
A LOVE STORY ABOUT AN ALPHA MANWHORE AND A GOOD GIRL BY NEW YORK TIMES BESTSELLING AUTHOR HM WARD
Money. Power. Sex.
Genre: New Adult Romance
This story unfolds over multiple volumes
Length: Approx. 130 pgs
PRE-ORDER NOW!
CHECK OUT WHAT READERS ARE SAYING ABOUT THE LIFE BEFORE DAMAGED SERIES:
"I absolutely love the fact that we get this story of Peter before Sidney."
- Miranda Book

"This has been my favorite series so far by HM Ward."
- Lynn White

"I love this series because Pete and Gina have more sexual tension than Hershey's has chocolate kisses."
- Cheryl
WANT MORE PETE FERRO? Check out this hot video! *drool*