SECRETS & LIES 2: A FERRO FAMILY SERIAL, by NEW YORK TIMES BESTSELLING AUTHOR H.M. Ward is out today!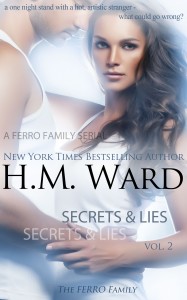 Description:
~USA TODAY BESTSELLING SERIES~
Volume 2 in a new series by New York Times Bestselling author H.M. Ward
Rebound sex gone wrong, plus epically bad luck, lands me in a sticky spot–at the front of a classroom, naked, with the totally hot, totally forbidden Mr Sketch Pad. I'm not a model, but here I am feeling more drawn to him each second. Add in that sexy smile and I'm totally screwed.
Genre: New Adult Romance
This story unfolds over multiple volumes.
BUY IT TODAY AT THESE RETAILERS:
(paperback to follow shortly)
What people are saying about Secrets & Lies 2:
"Funny, upbeat, sexy, young, hot, surprising, shocking, smart and… OH! THE ENDING!" – Melanie
"I am literally on a cloud after reading this book and can't wait for the next one." – Despina
"A goose, a cast of crazy characters and one determined freshman create the backdrop to Secrets & Lies 2. H.M. Ward has outdone herself again. Whatever the series, whichever Ferro is portrayed, these books are an escape to secrets, lies and love." – Debi