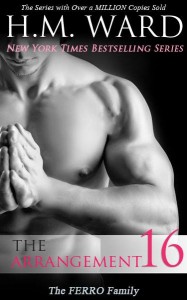 THE ARRANGEMENT 16 (The Ferro Family) is out today!
THE SERIES WITH OVER A MILLION COPIES SOLD
Volume 16 in the New York Times Bestselling Arrangement Serials
I've gone from a future of possibilities to nothing in a single gunshot. Homeless, penniless and without the man I love, my hopelessness overwhelms me and I seek unexpected comfort from people long absent in my life. I can't lose Sean—not now, not ever—and I'll do anything to get him back, even if it means using myself as bait.
Genre: New Adult Romance
This story unfolds over multiple volumes approx. 125 pages each.
~The Arrangement Vol 1-16 are on sale now.~
BUY IT TODAY AT THESE RETAILERS:
(paperback to follow shortly)
What people are saying about The Arrangement 16:
"If you like mystery with an edge of sexy, this is a MUST READ." -N. Venable
"Best one yet! So many Ferros at once!" Keitha
"Fall in love with Sean even more!" -Sue D.
If you are a new fan and would like more information on this series, click here.
This series is fan driven–which is really unusual and way cool! The main thing to know is that it has over one million rabid readers and I write more as they ask for more. This is my only fan-driven series, and you've never encountered a series quite like this one before. Check it out!