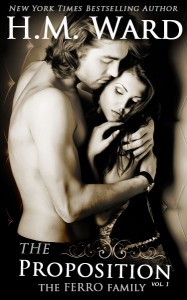 THE PROPOSITION VOL. 1: THE FERRO FAMILY was released today. This is the story of Bryan Ferro (Sean, Peter, & Jon's cousin). You might remember him from STRIPPED. Sean also balks about him now and again.
Description:
By NEW YORK TIMES Bestselling Author H.M. Ward
"Blackmail. Sex. Ferro.
His dark hair, bright eyes, and cocky grin look just the way I remembered. The last time I saw Bryan's Ferro's beautiful body, he was naked and shimmering with sweat. This time he's wearing a tux and a wicked smirk that makes my heart beat too fast. It's been so long since I've seen him, the moment feels supercharged.
But, the words that fall out of his mouth aren't what I expect and shock me to the core. They aren't light and pleasant, like ex-lovers who decided to part ways. His tone is clipped, and if his jaw locked any tighter, it would crack. He doesn't care about my personal life, my recent loss, or my boyfriend.
Bryan makes his intentions clear–if I don't sleep with him, he'll ruin me."
Genre: New Adult Romance
This story unfolds over five volumes approx. 125 pages each.
GRAB THE PROPOSITION 1 AT THESE RETAILERS:
(iTunes & Paperback to follow)
What readers are saying:
"Great story of tragedy, blackmail, and sex!" -Jodi B.
 "Every bit as intoxicating as her others." -F. Griffith
"Watch out Sean, your cousin is giving you a run for your money in the dark, heartless, sexy alpha male department." -DPM
FYI: My serial novellas typically have 5 books per series unless it becomes fan controlled like THE ARRANGEMENT. SECRETS & TRYSTAN SCOTT are complete serials with 5 per series.
Timeline: THE PROPOSITION runs concurrently with STRIPPED. You do not need to read the other Ferro family books to understand this one. Each series is stand alone.