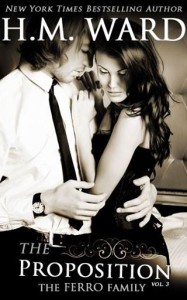 NEW RELEASE TODAY-THE PROPOSITION VOL. 3 THE FERRO FAMILY
Description:
By NEW YORK TIMES BEST SELLING AUTHOR
H.M. WARD
Blackmail. Sex. Ferro
An engagement is the farthest thing from my mind, but as Neil holds up the ring I glance around and notice someone is missing. Maggie. The man had the audacity to invite everyone else except my best friend. Where is she? When I go to find out, I don't like what I discover.
Once, I'd thought I was different from the Ferros and the Campone, but when it comes down to it–I'm exactly the same.
Genre: New Adult Romance
This story unfolds over 5 volumes approx. 125 pages each.
GRAB THE PROPOSITION VOL.3 AT THIS RETAILER! 
(B&N & paperback will appear shortly)
What Readers are Saying
"Holy Molly Donut Shop… the story line just leaves you breathless and wanting more." -Lisa
"What I guarantee from this latest volume is; shock, shock ummm and more shock!!!" -Michelle
"This installment of The Proposition series is phenomenal!!! There really isn't much I can't say without giving anything away so I will just tell you to make sure that you grab your copy as so as you can!!!  -April