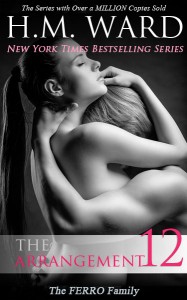 The 12th book in the bestselling THE ARRANGEMENT series is out! Wahoo!
Description:
THE SERIES WITH OVER A MILLION COPIES SOLD
Volume 12 in the New York Times Bestselling Arrangement Serials
***Warning Sexual Content***
There is so much blood that I can't think. The night goes from bliss to chaos in a matter of moments.As the truth begins to unravel, it's clear that I can't trust anyone, except Sean Ferro. The same man that threatens to destroy me could also be my salvation–and I could be his.
Genre: New Adult Romance
This story unfolds over multiple volumes approx. 125 pages each.
~The Arrangement Vol 1-12 are on sale now.~

**The fans voted and the sexual content remained in the book and was NOT toned down.**
GRAB THE ARRANGEMENT 12 NOW AT THESE RETAILERS:
(Kobo, and Paperback links coming soon)
What readers are saying:
"I absolutely LOVE Sean in this book! We finally get a glimpse of the REAL man beneath that hard exterior! He loves Avery and will do anything to protect her! OMG and the sex scenes at the end are AMAZINGGGGGGGG!" -DPM
"Love the crossover between books. I had to fan myself a little during this one but oh my goodness probably my favorite…Going to reread this one now. HOT HOT HOT!" -Ashley H.
"This series has totally taken a turn that I never would have expected. It keeps you on the edge of your seat and makes you want to read extremely fast just so you can find out what happens next." -Keitha B.
Characters that appear in this book are also in other series: Peter Ferro Granz & Sidney (DAMAGED), Bryan Ferro (THE PROPOSITION), Jonathan Ferro (STRIPPED), and Trystan Scott's backstory (COLLIDE).
You do NOT have to read these other series to know what's going on, but if you like a character and want to know more about them, go for it! Pst! DAMAGED and COLLIDE are 99 cents right now.