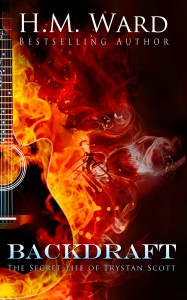 BACKDRAFT: THE SECRET LIFE OF TRYSTAN SCOTT #2
Check out the 1st review for BACKDRAFT!
"There are books that you read that you really like or love. Then there are books that really touch your heart. I have only read a few that sincerely touch something deep inside. They are the ones that stay with you after reading them. This is one of those books. I relate a lot to Mari. Pressure to be perfect, whether it's in school or something else. I think we have all been there. I was. Mari and Trystan appear to be more alike then they think. Both with trouble at home and both head over heals for each other. Right when they were going to tell one another something would happen and neither of them would. Seriously, I was ready to burst!!! I just wanted them to tell each other already!!! The comment about hooking up with someone was the best catalyst you could ask for. I also loved the Kiss Assassin! Brilliant!
Trystan is pretty much the ideal guy. Slightly damaged but, I think Mari can rescue him. I felt bad for Trystan in book 1 and that continued through Backdraft. I wanted to wrap him in a warm blanket and give him hot chocolate or something. The poor guy needs a break from real life and go somewhere else. Hopefully with Mari!! Actually, they could both use a break from their lives.
I need book 3….like yesterday. If you haven't read this series yet YOU REALLY SHOULD! It is a series of novellas that are worth reading! Will true love win? I'm honestly not sure yet. There are so many different ways this story could go. I will be anxiously waiting for the next one!"

Haven't grabbed it yet? Go get BACKDRAFT now at these retailers. 
Thank you to everyone who ran out and bought BACKDRAFT as soon as it came out! I love all your emails, facebook, and twitter posts! Keep them coming! Remember to leave a review when you are done and spread the love!
PS – I have no idea what's up with B&N. So many of you have been asking, chomping off your fingers and yelling at your computer for them to hurry up. B&N is taking longer than usual to post the book, but it will be there soon! Don't freak. If you totally can't wait, get it for Nook via SW. Several people have done that and you can have it now without waiting.