The Wedding Contract, by H.M. Ward, is on sale for

 99¢ today only (Regular Price: $5.99)!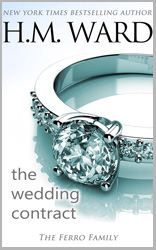 Description:
~NEW YORK TIMES BESTSELLER~
A Stand Alone Ferro Novel by New York Times Bestselling Author H.M. Ward
After I get the witch at the front desk to hand me my room key, I head for the shower. I was supposed to shoot my best friend's wedding alone, and I couldn't wait to escape New York and Nick Ferro.
Yeah, he's beautiful, sexy, and completely charming, but he's stealing my clients. He's done so much damage that I'm going to be lucky if I can keep my studio open for a couple of weeks. This wedding means everything to me, and I refuse to let a spoiled brat with a shiny new MBA put me out of business. Screw that.
But then I find myself wearing nothing but a smile when the person I hate most walks through the hotel room door. Nick Ferro. Two adversaries, shooting one wedding and sharing one room for one week. What could possibly go wrong?
Genre: New Adult Romance
Type: Novel 1 of 1
Buy It Today At These Retailers:
What Other People Are Saying About The Wedding Contract:
"Nick Ferro is hot, and creative, and did I mention hot? A must read for everyone!" – Cherie
"Just when I think I can't possibly love another Ferro, H.M. Ward throws another one into the mix and makes me fall in love all over again!" – DPM
"It is funny, sweet, sexy and will push more than a few emotional buttons along the way. It is delightful. It has the worst of families, the best of friends and the sweetest of loves." – Adriana
Happy Reading!