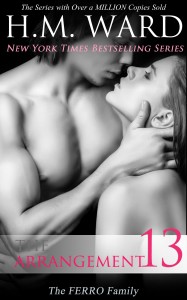 THE ARRANGEMENT VOL. 13 was released today!
Description:
THE SERIES WITH OVER A MILLION COPIES SOLD
Volume 13 in the New York Times Bestselling Arrangement Serials
***Warning Sexual Content***
Dark. Sexy. Epic. 'I can't lose her.' Those are the words that haunt me, the phrase that repeats in an endless loop in my mind. Images from my past collide with the present until I can no longer tell them apart. I try to hold onto what's real–hold onto her–Avery, but death is looming and it seems that no matter what I do, I can't save her.
Get a glimpse into Sean Ferro's mind in this volume. The first two chapters are told from his point-of-view.
Genre: New Adult Romance
This story unfolds over multiple volumes approx. 125 pages each.
~The Arrangement Vol 1-13 are on sale now.~
 GET THE ARRANGEMENT 13 NOW AT THESE RETAILERS:
(itunes and paperback will appear shortly)
"The Arrangement 13 is beyond brilliant. It will feed your inner-Ferro addict and leave you jonesing for more, more, more." -Colette R.
"Dark, Dangerous, and Delicious! This is by far the darkest, most dangerous, and deliciously sexy book of the series! I can't even begin to describe the many twists and turns this book takes! I was literally on the edge of my seat the entire book! The ending will leave you shocked, angry, confused, and gasping for breath! I absolutely LOVED every second of this thrilling ride!" -Debbie M.
Why are these books short and fast? They're supposed to be. Click here for more info.