I wanted to take a second to say thank you to all of my readers. You guys are awesome. THE ARRANGEMENT 11 hit the New York Times & USA Today bestseller's list. Plus, it made it onto Digital Book World's list, which is something since an Indie hasn't made their list in over a month.
The other thing I'm super excited about is that this is my 10th New York Times Bestseller this year! Talk about thing I never thought would happen. Hitting the list once is amazing, but 10 times? There are no words to describe how awesome that is, and I know the only reason I hit any list is because of you guys, so thank you so much! Thank you for telling your sisters, your friends, and your family about my stories and jumping to buy them when they come out. You guys are amazing!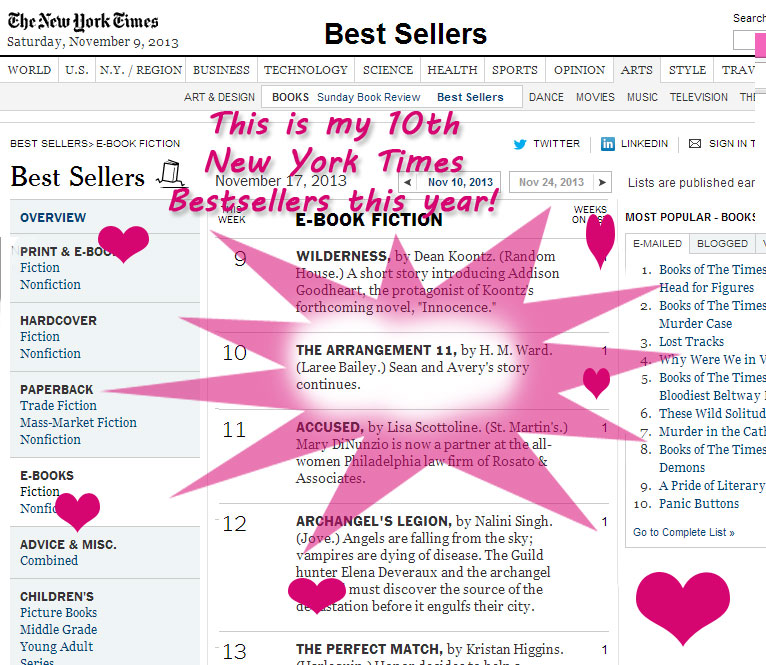 Some of you know I've been under the weather, so stuff like this is awesome. Plus all the Mr. Turkey pictures one of the fans posts on Twitter cracks me up, so I'm setting things up to play a game. I bought a turkey vulture and we're going to play PASS THE TURKEY. More info coming on that coming soon. Watch the FB page, because sign up will be done over there.