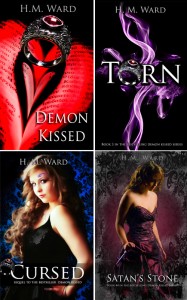 I've been thinking about re-doing some of the covers on the Demon Kissed series for a while. The bestselling series don't have the best continuity when it comes to their covers.  Besides the font and the appearance of the ring in the 1st five covers, there isn't anything stringing them together.
I'd like to change that and update all the covers to have the feel of books 4 & 5 – Satan's Stone and The 13th Prophecy.  I realize that might confuse people.  I just wanted to give the fans a heads up.  The paperback covers will change 1st, then the ebook covers.
If you want one of the 1st editions with the old covers, better grab one now.  DEMON KISSED has already been revamped.  The new cover looks a lot like SATAN'S STONE.  CURSED will stay the same.  TORN and ASSASSIN will get a face-lift.  I think Eric should grace the cover of his book.  These changes will be made over the next moth or two.  I just wanted to let the fans know!
There is also a hush hush secret in the works.  Should I tell you yet?  It's the main reason why I haven't had time to change the covers.  Well, you know how you read about all these awesome places Ivy goes & the Underworld creatures that she sees?  The Lorren, Omen, the golden flowers, the Pool of Lost Souls?  Well, I'm working on illustrations of those.  Many of you know I'm and artist–and a perfectionist–so those won't be ready any time soon, but its time consuming.  And so worth it!
In the mean time, the covers will shift to awesome images of Ivy and Eric and Collin (eeep!).  And I'll post teasers of the art work as soon as I can.
To grab one of the last signed copies of the old Demon Kissed cover, go here.  I have about five remaining.