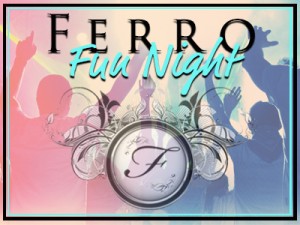 Join me on Facebook for an online evening of prizes, games fun and FERRO! TODAY!
Invite a friend! Do you have a reading buddy, a friend, colleague, neighbor, hairdresser or dog groomer that you've been DYING to get on board the Ferro train? Invite them too! The more we are, the crazier it'll be. What better way to convince them to get hooked on Ferro madness?
Come meet other Ferro fans, such as yourself! You gotta be there! We had such a great time at the Q&A a couple of weeks ago, that I decided to set up another similar event.
When? Sunday, August 16th, 8pm EST
Where? ONLINE, on my Facebook page. Click here to access the event directly. Click on "Going" to let me know that you're coming! Even if you can't attend, click "going" and you'll be entered for the door prize giveaway.
Who? YOU, of course! And a friend, or two, or three, or four. Spread the word, share the event and send out invites from the event page.
Can't wait to see you there!