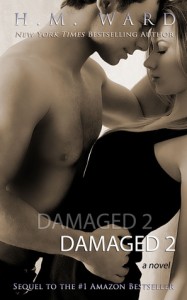 DAMAGED 2 WAS RELEASED!
The steamy conclusion to the New York Times bestselling New Adult novel DAMAGED by H.M. Ward.
Description: "Home isn't supposed to be dangerous, but for Sidney it is. Returning home means that she has to face her past. It's not just the man who hurt Sidney that makes it horrible, but the family that didn't believe her. They were dead to her, but now that her mom is really dying things seem different. It's a chance to set things right.
What Sidney doesn't realize is that she's dragging Peter into a collision course with his past. Peter must deal with the demons haunting him if he wants to move forward with Sidney. He's willing to give up everything for her, even wade deeper into his past life to help her move forward. But, Peter isn't sure if he can get over what happened to him in New York."
Genre: New Adult Romance
Length: Novel, 324 pgs
Conclusion to the NYT and USA Today Bestseller DAMAGED
"Sexy, suspenseful & hilarious all at the same time!" - Anne
"I love Peter. There are some serious sexual tension between him and Sidney." -Spare Time Book Blog"Fabulous book, it had me laughing one moment then on the edge of complete suspense the next." -Samantha
"Looking forward to the futures books of the Ferro brothers." -Debbie M.
"Full of unexpected moments that will make you laugh out loud and smile all day". -Crissy M.
"Totally recommended for readers that enjoy a thrilling book and a HOT romance!" -Gloria H.
"We got to see all three Ferro brothers together, Sean I have to say I was so disappointed in him, and Jonathon can't wait to meet him in his book (STRIPPED)." -A Crazy Vermonter's Book Reviews
GET IT FROM THESE RETAILERS:
iTunes link will appear shortly.
I've seen a rumor floating around that you have to read THE ARRANGEMENT series and STRIPPED to make sense of DAMAGED 1 & 2 – that is
not
true.
Each series is standalone.
You do
not
have to read one to understand another. However, if you do, it creates more depth.
The world is
FERRO BROTHERS
, and it includes 3
separate
series:
THE ARRANGEMENT (Sean)
DAMAGED (Peter)
STRIPPED (Jonathan)