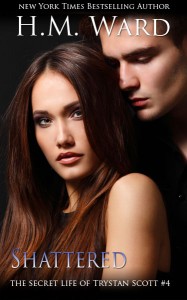 SHATTERED is out today!
Description:
Volume 4 in the TRYSTAN SCOTT Serials by NY Times Bestselling Author H.M. Ward
After Mari's attempt to help Trystan goes horribly wrong they are both forced to deal with the consequences.
Genre: New Adult Romance
This story unfolds over multiple volumes approx. 20,000 words each.
~The Arrangement Vol 1, 2, 3 & 4 are on sale now.~
That's right, people! A one sentence description!
Here is what the fans are saying:
"This volume was just what I expected. FANTASTIC!!!!!! It picks up exactly where the last left off with Mari at Trystan's door during a violent situation. If you have read the other 3 in the series (which you should before you start this one), you know what to expect and you won't be disappointed. I cannot wait for the next one to be released.
I am beginning to be glad this is a part of a series. I don't think I could handle all the intensity in one sitting. I get too caught up in the story and the characters to put it down. Heck, there are times I even forget to breathe as I'm reading. I feel so connected to the characters. It doesn't seem to matter to me that they are still in high school and I'm waaaay past those drama filled days. I'm addicted. If you haven't started this series, give it a try. You will not be disappointed." -Jodie D.
"Shattered is awesome. The perfect title for that insane ending and definitely left me wanting more. Can't wait to read the fifth novel in this amazing series, as I know H.M. Ward will not disappoint. I hope everyone checks this series out, because I know they will love it as much as I do. Oh and loving the new covers!!!" -Reese's Reviews
GET SHATTERED NOW AT:
Kobo and iTunes will follow shortly. The paperback will be posted soon as well.
Thank you to everyone who's been following this series from the beginning! Like my other stories, it deals with life and all the raw emotions that go with it. I <3 Trystan. Just sayin'. Hahahaha. The next volumes will be out in a few weeks. To make sure you don't miss it, go over here and sign up to get an email reminder on release day. If you are in the US, you can text AWESOMEBOOKS (no spaces) to 22828 and get the email reminder, too.
Peace out peeps!