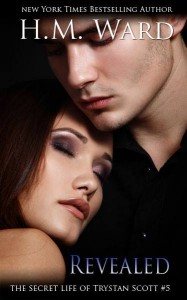 REVEALED – THE SECRET LIFE OF TRYSTAN SCOTT #5 was released! Wahoo!!!
Description:
BY NEW YORK TIMES BESTSELLING AUTHOR H.M. WARD
The final volume in the Trystan Scott Serials
Fame has a price and Trystan doesn't want to pay it. Everything he worked so hard to hide is about to be revealed. Nothing he can do will stop it. Within a few short hours everyone will know about his father and the sordid details of his past. Brie is by his side, sputtering things that she shouldn't know. Did Mari stab him in the back? After everything they've been through, he can't believe it, but where is she?
There are four words Trystan's father said that haunt him–four words that he ignored–never fall in love.
COMING THIS WINTER:
A TRYSTAN SCOTT NOVEL – BROKEN PROMISES
It's 3 years later and Trystan's life has changed. The Secret Life serials are how Trystan became a rock star, the novel is what happens after his rise to fame, and his brush with the Ferro family.
Can't wait for more Trystan Scott? Be sure to pick up STRIPPED. This is the 1st glimpse of Trystan 3 years after the Secret Life of TS serials.
GRAB TRYSTAN SCOTT #5 NOW AT THESE RETAILERS:
iBookstore and Paperback coming soon!
Thank you to everyone who loves Trystan! You guys are awesome. My inbox is overflowing with fan mail gushing about this new release. I'm thrilled that you guys love him as much as I do! Thank you so much!!!!